Vinyl Animals on Parade
​Original watercolor on paper. Framed in a gray mat with a gray washed frame. Overall size 16 x 14. $175
Approximate image size 5x7
**Prints available for $18.
Mackey Davis
​Original watercolor on textured watercolor board. Framed in a gray wood frame and a simulated texture mat. Overall size 11-1/2 x 9-1/2 $150. Approximate image size 5x7.
**Prints available for $15
Tuxedo and Cherries Print
​Print from an an oil painting on canvas. Approximate image size 5x5. $15
Original is sold.
Apples and Gingham
​Original oil on canvas. Image size 8x10. Framed in a 2" red wormword frame with a gold lip. $100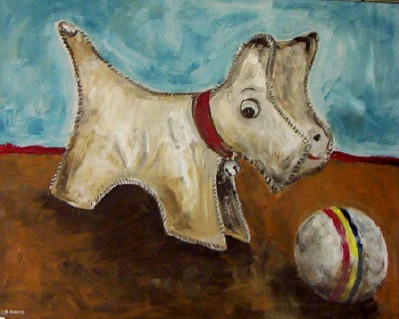 Antique Toys
​An original oil on primed plywood. Approximate image size 24x30. Framed in a 2" distressed pewter frame. Prints not currently available. $350
Kitty Loves Colors
Watercolor original on paper. Image size is approximately 11x14. Framed in a double mat with small polka dots on the top mat with a cute curly Q light black frame with a gold lip. $150
**prints available for $18
​
Landscape in Green
An original unframed watercolor on 140 pound watercolor paper. Approximate image size 22x30.
$250
​
Self Portrait
A self portrait in oil on canvas. Image size 39x44. Features Shannon and her scottie dog.
Not for sale
A 4 count card set of the image is available. $8
​
Barn in Green
​A small watercolor of a barn floated on a neutral matboard with a pear green black core mat cut around it and framed in a black barnwood. Approximate image size 6x5; approximate framed size 10x11. $150
Sold
Square Scottie
A small 4x4 painting on canvas of a scottie dog in oil. Sold.

Square barn in a Square
An oil painting of a square barn on gesso board size 4x4. Price $50

Old MacDonald's Barn
A 6x6 oil painting done on gesso board featuring a realistic, but slightly whimsical red barn. Sold.
Kali
A 5x7 pet commission done on a gesso board of a Jack Russell Terrier named Kali. Original is sold. Prints available for $20.

The Dancer
​Prints made from the original oil painting by Shannon Davis. Prints currently available in 26x36 on paper for $195, 17x24 for $95, and 14x17 for $70.
Prints available in canvas and other sizes of paper upon request.
Original not for sale.